Emergencies can happen. Be prepared.
We hope it will never happen. But if it does, be prepared with this free printable pet emergency info sheet. Use it in many ways: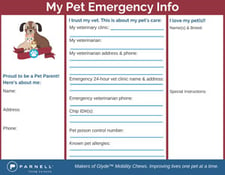 Do you know where the closest veterinary ER is?

Fill it out for yourself.

Leaving your dog with a pet sitter? Fill this sheet out so they know where to go.
Travelling by plane or car with your pet? Secure this sheet on the travel crate in case you are separated.
We always want to be prepared. Now you are.