Get Your Birthday Downloadable!
Here is a perfect way to celebrate your dog's birthday! Just fill out the blank areas to personalize it for your dog. It's social media ready!
Glyde Mobility Chews turns 6!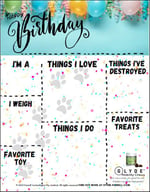 Glyde™ Mobility Chews for Dogs uses natural, gluten-free ingredients to promote healthy joints that let your dog do everything he or she loves to do! Glyde is the only nutraceutical that contains proven levels of three key components that work to relieve the painful signs of arthritis.