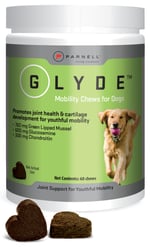 Exclusive Pet Place Offer:
50% Off Glyde + Free Shipping
Glyde Mobility Chews 60 ct.
$26.50 $53.00
Use Discount Code: PETPLACE50
Note: The offer limit is 2 jars. Orders exceeding 2 jars will be adjusted down. See offer details.
Arthritis Affects Dogs Too
Protecting a dog's ability to run and play is key to preserving quality of life. That's why early recognition and treatment of arthritis in dogs is so important.
There are many factors that can lead to arthritis in dogs such as breed, age, weight, and prior health issues such as bone fractures and dislocations, hip or elbow dysplasia, and joint surgery.
20% of dogs over the age of 1 and 80% of dogs over the age of 8 will show signs of arthritis. Arthritis is a silent disease that steals mobility, independence and freedom, but it doesn't have to.
The Glyde Difference
A daily dose of Glyde will keep the pep in your dog's step!
Glyde Mobility Chews is the only joint supplement that contains proven levels of three key ingredients to naturally relieve joint pain and maintain healthy joints.
Glyde Chews use natural, gluten-free, environmentally sustainable ingredients to promote healthy joints to let pets do everything they love to do! Glyde is available in heart-shaped chews with dosing that is convenient for all breeds and sizes. No prescription needed!

Need more information? Check out Glyde's full ingredient list and dosing chart here!
PET PLACE Exclusive Opportunity
50% Off Glyde Mobility Chews + Free Shipping
Ready to try our Veterinarian Recommended Premium Joint Supplement for your dog?
Use Discount Code: PETPLACE50
Risk Assessment Quiz
It's never too early to start protecting your dog's joints against arthritis. Could your dog already be suffering? Do you know what to look for? Arthritis in dogs can be difficult to recognize and your dog might not show any signs.
Take our short quiz to find out your dog's personalized risk for arthritis.
Offer valid for new customers only: Save 50% off your first order online with discount code. Offer valid on all one-time purchases, including the first month of an autoship subscription for first-time subscribers. Limit one use per customer or household, discount limit of 2 jars. Parnell reserves the right to cancel any orders for users abusing the discount promotion.
Read our Privacy Policy here.