Fertility Protocol Compliance just got easier.
We have made fertility protocols easier with our Blue Cow Red Cow Fertility Suite. The clear labels and equipment are appreciated by producers and veterinarians alike because it has simplified and improved on-farm compliance.
GONA

breed

®
The highest concentration of gonadorelin in market
16% more gonadorelin than competing market products
1 ml injection (100mcg/dose)
estro

PLAN®
As part of the Parnell PROcept Protocol, estroPLAN is the only PGF2α shown to increase pregnancies/A.I.
2mL injection (250mcg/dose)
PRO

cept

™
Parnell has also pioneered the adoption of several novel protocols. One specifically is in collaboration with Dr. Milo Wiltbank, and his research team at the University of Wisconsin called PROcept.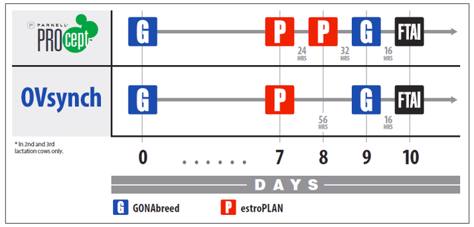 Two large-scale clinical trials proved that adding a second dose of prostaglandin to an Ovsynch protocol on day eight significantly improves the conception rates in second and third lactation dairy cows. These studies showed the second dose of PG regressed the CL by 97% vs. the control group of 83%. The complete regression of the CL meant lower levels of progesterone during the final stages of follicular growth. The outcome had a profound effect and increased conception rates by a relative 14%.
Wiltbank, M. C., Baez, G. M., Cochrane, F., Barletta, R. V., Trayford, C. R., & Joseph, R. T. (2015). Effect of a second treatment with prostaglandin F2α during the Ovsynch protocol on luteolysis and pregnancy in dairy cows. Journal of Dairy Science, 98(12), 8644-8654. doi:10.3168/jds.2015-9353
View Full Production Information for GONAbreed and estroPLAN (pdf)
GONAbreed (gonadorelin acetate) PRECAUTIONS: FOR ANIMAL USE ONLY, NOT FOR HUMAN USE. KEEP OUT OF REACH OF CHILDREN.
estroPLAN (cloprostenol sodium) PRECAUTIONS: FOR ANIMAL USE ONLY, NOT FOR HUMAN USE. KEEP OUT OF REACH OF CHILDREN. Women of childbearing age, asthmatics and persons with bronchial and other respiratory problems should exercise extreme caution when handling this product. In the early stages, women may be unaware of their pregnancies. estroPLAN is readily absorbed through the skin and may cause abortion and/or bronchospasms. Direct contact with the skin should therefore be avoided. Accidental spillage on the skin should be washed off immediately with soap and water.